About
us
Luving Back Starts with us
Companion animals live a short life. In that little span of time, they add magic to every life they touch. With this limitless and pure love, unconditional loyalty and antics to adore, they bring boundless joy to all of us. They depend on us to provide for and reciprocate the love. Good food is the bedrock of a healthy and wholesome life, your best friend deserves from you. At Fabulicious Pvt Ltd, we are committed to extending fabulous and delicious concept foods for companion animals, to help you do your part. Ipshit Bhattacharya, the man on a mission with Fabulicious, is a B.Tech in Food Technology (2004) cum Canine Nutritionist with MBA from IIM-Ahmedabad (2009).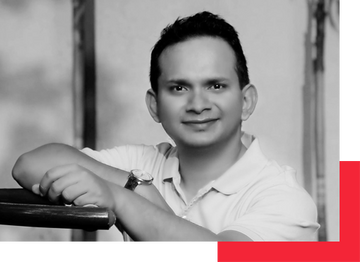 With a background in setting-up manufacturing plants for processed foods, nutrition, marketing and finance, he contrasted the rapidly evolving pet food industry globally vs India and discussed issued faced by known pet parents. He arrived at the realization that while pet parents are not adequately equipped and informed to provide a complete, balanced home-cooked meal, indigenous products, barring some manufacturers, are heavily dependent upon rendered animal by-products. The more time he spent understanding the needs of companion animals and their parents, the more convinced he felt about the possible use of technology towards enriching their lives. This, love for his cocker spaniel-Nuttie and the loving memory of Snoopy, Rocky, Boxer, Bunty-Bubbly, Pyare-Mohan and Bhalerao, pushed him to switch lanes from a career in the Finance Industry to bringing some joy in the four-legged universe. His biggest supporter is Ayrah a.k.a Gungun, his 8-year old daughter, who's only objective is to cuddle our pet customers.
Fabulicious is a Department of Promotion of Industry and Internal Trade, GOI certified start-up. We interact with several manufacturers across the globe to identify recipes with ingredients that benefits every organ of your pets' body, thereby ensuring head-to-tail health and well-being while complying with International pet food regulations. The dry dog foods were our first offering and the beginning of our relationship with you. We eventually added our 'Nothing else' range of treats that you can share with your furries and our innovative offerings like 'Instant Soup Powder' and 'Herbal Gourmet Food Topper'. We shall steadily continue on this path to help you love back. We'd be honored if you are part of this journey by giving us your valuable suggestions, tips, experiences and criticisms. Drop us a line or ping us and let's keep the conversation flowing.
Talk about your brand
Use this text to share information about your brand with your customers. Describe a product, share announcements, or welcome customers to your store.